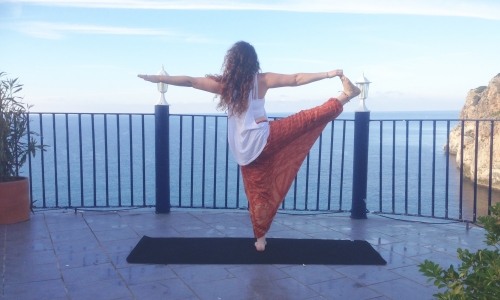 Led by Amber Serene Yoga Therapist E-RYT
I have trained in various styles of yoga in the southern & northern parts of India, I am a international certified advanced Yoga teacher with over 5 years of experience.
I love to practice a more stimulating yoga style in the morning to increase energy flow like Ashtanga or Vinyasa and a healing Hatha & Yin practice to wind down in the evening. With every practice I combine the rhythm of breath with movement, being mindful & connecting with your oneness, tuning into your body alignment and bringing awareness & healing to where you need it most.
I love creating my own unique flow listening & connecting to my students.
"Amber is a brilliant teacher. The atmosphere she creates is so relaxing. I always leave her classes feeling rejuvenated, completely relaxed, and with a calm, peaceful mind. Also she really helps you to work to your full potential with every pose so you get a thorough deep stretch. I suffer with lower back pain and tension in my neck and shoulders and a general state of stress – I realise this because of how calm I feel after her classes! And it's so relieving to stretch out all my tense areas. I can't recommend her enough."
Weekly Yoga classes 2017
· Wednesdays 6.30-7.45pm Hatha & Yin £8
Located in the historical part of the Old Town, The studio has a lovely feel and is cosy & warm with plenty of light beaming through.
All levels welcome & Yoga equipment is provided. See you on the mat! ♥
One to one sessions available
Located at my private yoga studio in the heart of Hastings Old Town
Yoga therapy for stress, depression, anxiety & insomnia
A healing class tailored to meet your individual needs working with different breathing techniques, deep meditation, easy comfortable stretches,
Yoga Nidra deep sleep relaxation & sound energy healing.
1 hour £35
1.15 hour £40
Outdoor summer Yoga & Meditation classes ☼
Located either on Rock N Ore beach the most beautiful & natural part of Hastings sea front or up on the East Hill
surrounded by peaceful nature and far reaching panoramic sea views.

1 hour £5