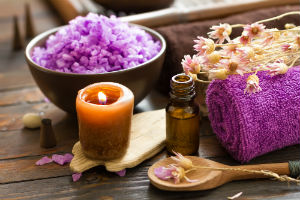 Love your skin
Only natural mostly organic vegan ingredients are used to make these products – No chemicals!
3 Reasons why you should only use natural skin care products:

* Artificial fragrances may contain chemicals that are linked to cancer, and can cause damage to the Liver, kidneys & the nervous system.
* Parabens mimic oestrogen and can penetrate the skin and there has just been the scare that they could cause cancer. They are fairly easy to produce and are widely used as a preservative.
* There is some evidence that Sodium Lauryl Sulphate/Sodium Laureth Sulphate can effect the reproductive system. It is also a skin, eye and respiratory irritant and may cause damage to the liver, lungs and the immune system. SLS is a known to be irritating to the skin and is even used as a standard skin irritant in clinical studies! It is not surprising, therefore, that it can cause scalp problems when frequently applied as part of a shampoo. It is recognised as being one of the most irritating chemicals of its kind which are used in shampoos. There are two main reasons that SLS is such a popular ingredient in shampoos. Firstly, it is cheap as it is produced synthetically, making it ideal for low-cost brands. Secondly, it is a very effective foaming agent; that is to say it creates lots of foam when mixed with water. Originally, SLS was designed for garages and manufacturers as it is a very powerful grease and dirt cleaner.
Why use man made fragrances when nature provides all you need in pure essential oils.
Our Natural Vegan skin care range are made to order, get in contact to discuss your skin requirements. 
Our remedies are also on offer to buy at our retreats, make sure to place your order 1 week prior to your retreat date.
Please get in contact to make an order, deliveries are available of orders over £35.
Chakra Scented Candles…

120 grams £10 each
Patchouli – Muladhara (Root Chakra) Security & Stability
Ylang Ylang – Svadhisthana (Sacral Chakra) Sexuality & Emotional Balance
Cinnamon – Manipura (Solar Plexis Chakra) Personal Power & Self esteem
Rose – Anahata (Heart Chakra) Self Love & Relationships
Eucalyptus – Vishudha (Throat Chakra) Communication & Self Expression
Lavander – Ajna (Third Eye Chakra) Wisdom & Intuition
Frankincense – Sahasrara (Crown Chakra) Spirituality & Depression
Body Butters…
Wild Rose Body Butter – Uplifting & Nourishing All Skin Types
Cacao & Coconut Body Butter – Moisturising & Great for Damaged Skin

60 grams £8
120 grams £13
Medicinal Salves…
Muscle rub salve – Helps ease Muscle & Joint Pain All skin types 15 grams
Herbal skin salve – Helps treat Skin Conditions All skin types
Breath easy salve – Help relive congestion & cold symptoms 
15 grams glass container £8 each
Wild Rose Geranium face balm – Cleansing & Hydrating All Skin Types
15 grams  £10
30 grams £17
60 grams  £30
Bath Oils…
Sunshine – Energising
Calm & Cheerful – Uplifting
Soothing – Relaxing
100ml £8 each 
Body Scrubs…
Zesty Lemon & Poppy Seed – Rejuvenating & Cleansing
Wild Rose & Geranium – Nourishing & Uplifting
Lavender & Frankincense – Relaxing & Hydrating
120 grams £8
Lip Balms…
Cacao & Mint Lip Balm – Nourishing & Refreshing
Jojoba & Grapefruit Lip Balm – Soothing & Moisturising
5 grams £3.50
Love Amber's products, I use them in my salon and my clients are loving them too. Thank you so much. Xx
Gorgeous handmade creams and balms made with pure love by amber - very good prices and the ingredients clearly written so you know you can trust what you are putting on your skin with no awful chemicals added by shop bought products xx
The amazing and lovely Amber is a great yoga teacher, that is always looking to learn more herself too, and has now started making wonderful vegan, organic products too! Perfect for treating that special person (maybe yourself)!
In love with Amber's products, the cacao and coconut body butter made my skin feel amazing and it still felt super soft and moisturised hours later which is rare as my skin gets dry quick, I usually have to moisturise a couple times a day.
I have massages from, do yoga with, and use hand made organic vegan rose and shea nut body butter from Amber Serene.
Her massages are amazing! Her hands are incredibly strong and get into and release very deep knots - somehow she just knows where they are!, yet as soon as she places her hand on my back to begin I feel what I thought was my relaxed body relax even more under her calming touch!!
Yoga with Amber is so peaceful and calm and covers the full stretches without feeling strained or sore afterwards. 
Her body butter, which I also use on my face, is heavenly fragranced and so nourishing and it is very reassuring to know the ingredients are organic and vegan.
I have recommended her to my husband and friends who also enjoy her yoga and massages. Thank you lovely Amber
I have been using the face balm for about a month now. My skin has never looked better! I have had issues with my skin in the past and have tried everything under the sun! I can wear less make up now too as it's completely cleared it and it looks glowy too! Also Amber gives a great massage too.