Meet our beautifully talented & inspirational team!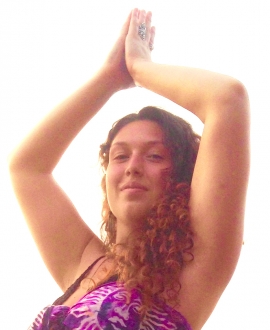 Yogi Amber Serene
Advanced Yoga Teacher & Therapist E-RYT / Founder of Yoga Retreat Holidays Ltd
I was influenced by my father who is an Acupuncturist & Herbalist professor in London. After completing my training in Swedish & Deep Tissue massage in 2005 I had the desire to go deeper into the understanding of our energy lines and pressure points I had the studied Chinese Medicine under my fathers guidance and completed my training in Acupressure massage, Auricular Acupuncture & making external Herbal remedies in 2012.
After suffering from a hormonal imbalance and breathing difficulties I had decided it was time to give myself the love & healing that was needed, travelling to India to find some peace & body awareness practising the art & magic that is Yoga. Through my Yogi journey living in an ashram I had learnt the importance of letting go of attachments, being present and appreciative of each living moment and all of its magic. I was blessed to have received wise and soulful teachings of pranayama, asanas, chakra balancing, Meditation, Yoga therapy and maintaining a healthy balanced diet. I have seen a huge improvement in my breath capacity, my hormones feel more balanced and my mind, body & spirit is content and at peace. Through a regular self-care practice my strength & focus, flexibility & posture has improved immensely.
My passion and desire for yoga has truly blossomed, realising it has always been within me to help heal others, showing compassion to all and believing in our truth and beauty achieving our dreams and desires, always helping others on their path of self-love. I love sharing my passion and growth of Yoga, learning from each experience, connecting to every moment. We are all unique and connected in heart and soul, lets support one another on our journey to enlightenment.
I have trained in various styles of yoga travelling through the southern & northern parts of India finding my feet.
I love to practice a more stimulating yoga style in the morning to increase energy flow like Ashtanga or Vinyasa and a healing Hatha & Yin practice to wind down in the evening. With every practice I combine the rhythm of breath with movement, being mindful & connecting with my true self, tuning into body alignment
and bringing awareness & healing to where it is needed most.
"It is my passion to breathe love & peace everywhere I go."
I offer weekly group & private one to one classes in Hastings, East Sussex & London, holding workshops at festivals and events throughout the summer including Glastonbury festival and hosting Retreats in the UK and abroad. My love for adventure inspires me to create a healing and uplifting space, allowing time to reconnect with nature, helping others continue there positive yogic lifestyle, dietary intentions & keeping up a regular healing practice routine.
I am fully qualified, first aid trained & insured with Yoga Alliance UK professionals.
For details or to connect with Amber Serene, please contact – amberserene@outlook.com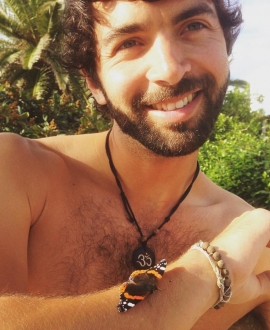 Ivan Modlinger-Ali
Qigong Teacher & Reiki Healer (Guest teacher)
Was brought up a Buddhist, his parents practising tai chi and yoga regularly always inspired Ivan in that way of being.
Ivan first met Qi-gong eight years ago and has practised Yoga, Qigong on and off throughout his life.
Having realised the incredible effect it had on his well being & mental health he chose to complete his training as an advanced Qigong teacher at "The Shiatsu College" in London. Ivan is a qualified Reiki therapist and has an amazing healing touch, his aim is to help others through there healing journeys of love, belief and contentment within.
He has been working with young people and adults with special needs and troubled teenagers for over ten years now and loves to help in any way possible.
In his late twenties Ivan was diagnosed with Bi-polar disorder with severe depression so took some time out to learn how to manage his illness with healing and growth. He finds that a regular Yoga & Qi-gong/meditation practise, healthy fresh & balanced diet, regular exercise helps manage his illness without having to take prescribed medication.
Ivan has experience helping & teaching at retreats in East Sussex & abroad as well as within his local community.
He plans to work with people within the mental health sector introducing them to Qi-gong and the amazing power it has to help manage our well being.
Ivan is fully qualified, health & hygiene certified, lifeguard & first aid trained.
For details or to connect with Ivan, please contact – ivanmodlinger20@hotmail.com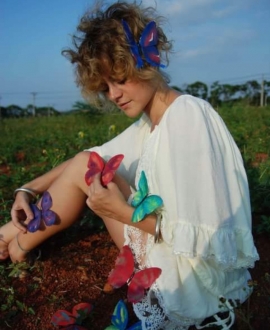 Alison Foster
Massage Therapist MFHT
Ally qualified in 2005 as a holistic & sports therapist and has worked in London for the past five years. She uses a variety of techniques specifically chosen for your personal needs whether that be injury rehabilitation, emotional blockages or just a wonderful healing & relaxing massage.
With Ally you can be assured that whatever your reason for therapy she will work with you to find the right treatment to taking the steps towards healing and fixing any problem.
Ally became interested in a holistic lifestyle after suffering from severe panic attacks and trained as a therapist with the intention of learning how to heal herself.
Not only did she recover from anxiety attacks but also gained a career in an industry that she loves. She has travelled and lived in south-east Asia for three years where she had learnt different techniques from healers in India, Nepal & Thailand.
Once she had returned to England she began training in soft tissue maintenance with deep tissue and sports massage.
In the past five years Ally has worked and continues to work for some of London's most renowned clinics and Spas, running a massage stall at London's markets
and works across the country at festivals and events, working with people from all walks of life from musicians to royalty to athletes to circus performers.
Ally truly believes it is essential for absolutely everyone to maintain a balance of body and mind as a regular part of their life.
A great way to do this is through a mixture of both sports massage and holistic treatment.
Treatments offered:
Aromatherapy
Reflexology
Reiki
Deep Tissue
Swedish
Sport
Acupressure
Ally is fully qualified, first aid trained and insured by a professional membership body.
For details or to connect with Ally, please contact – allyfoster@googlemail.com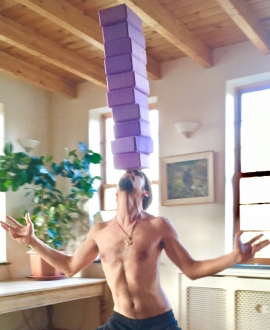 Rob Wills
Our joyful, creative & intellectual helper!
Rob is a beautiful being of light who brings his warmth and insight to our team.
He is an artist/illustrator by trade and a natural loving entertainer by heart.
He will prepare and create wholesome vegan & gluten free meals during your stay as well as keep the fires going so that we stay warm & cosy during the colder months.
Robs dedication, passion and love for food is truly inspirational we always love his yummy & delicious creations!
Rob has a warm and comforting energy, helping you feel relaxed and at home. He loves to get lost in a novel and would be delighted to recommend a book to enjoy from our library during your stay.
Rob is health & hygiene certified level 2 and is first aid trained.
For details or to connect with Rob please contact – robwills1987@gmail.com